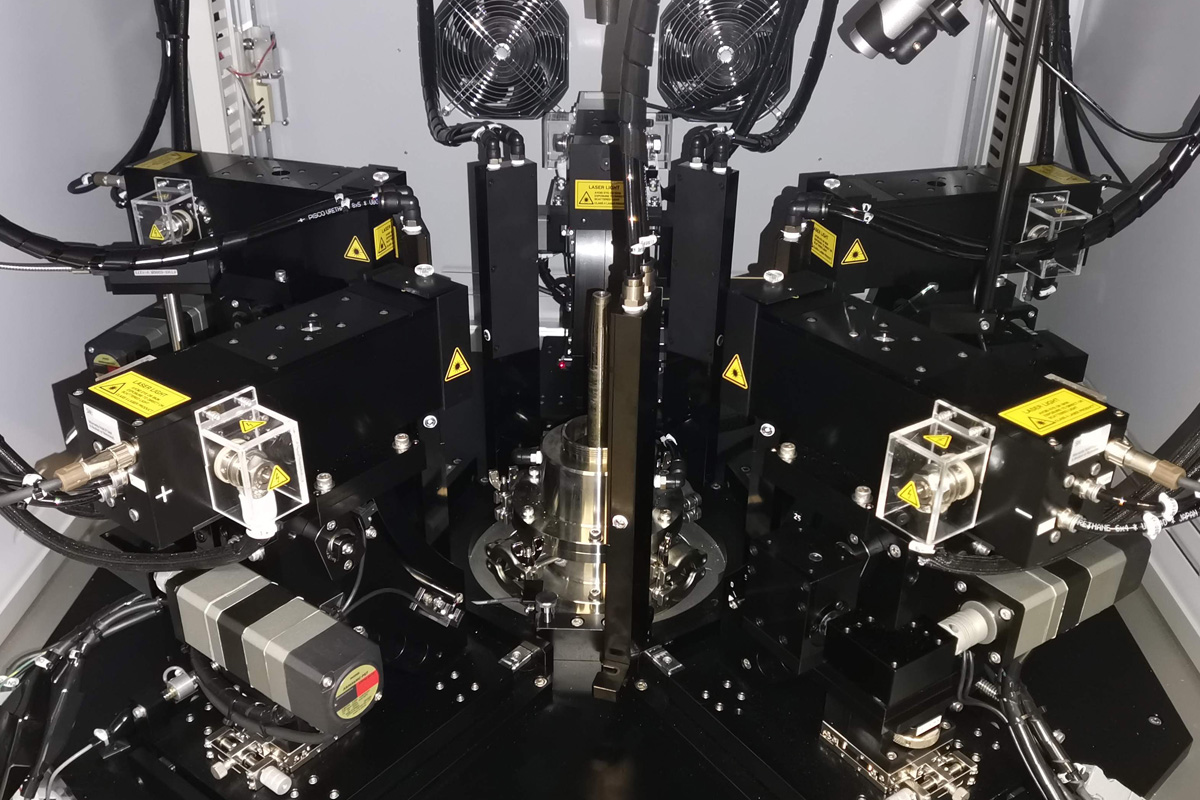 Typical applications
The primary utilization of the laser furnace is single crystal growth by floating zone method.
The whole process takes 3 days-preparation of the furnace, growth process and cleaning of the furnace; typical growth process of single crystal takes around 10 hours (depending on pulling speed and expected size). The furnace and all parameters are fully controlled via PC and remote control mode is also available.
The accessories for polycrystalline precursors preparation is available both for metallic systems by casting of the melt or sintering of oxide based powders. Maximal size of single crystal is 100 length and 10 mm diameter.
Technical specification
The furnace is equipped by unique heating mechanism of the hot zone by laser-five lasers each 200 W symmetrically surround the hot zone. The spot size of the laser is 4x8 mm2 tunable by optics to 4x4 mm2. The lasers are set up in horizontal plane arrangement in basic setting but can be tilted up to 35 deg. by motorized arm. Then, the furnace can work as a Czochralski method. The chamber of the furnace is made of high transparent quartz tube separating the sample space from outside space. The chamber can be evacuated (10-5 mbar) or pressurized (10 bars) by air, oxygen, Argon (6N) or Ar + 5 % H2 mixture. The gas inside the chamber can be static or with flow up to 2 l/min.
The highest available temperature is 2600 deg., which strongly dependent on color of the polycrystalline precursor.
Both upper and bottom shafts can rotate up to 100 rpm to homogenize the temperature profile of the hot zone. Pulling speed of the single crystal is within the interval 0.1-100 mm/h.